Every business affected by COVID over the last twelve months will tell you a different story.  Many are heartbreaking tales of closure, some have managed to muddle through, others have pivoted their offering, whilst some have seized the opportunity to profit or even started a new business venture.
For those that have survived, thrived or started up, there is a need to communicate with their customers, particularly via digital channels, to let them know they are here and open for business. That's where someone like me can help.
As a copywriter, I do count myself one of the fortunate ones able to keep going throughout and work with some inspirational businesses who have dealt with the pandemic in different ways.
I wanted to share some of their stories, and the importance of spreading their message, to perhaps inspire you or give you some ideas that might apply to your own business.
Time for a new business venture?
I have been working with Franchise Match on prospectuses for three booming businesses that each offer franchise openings to entrepreneurs seeking a golden opportunity in the present climate.
All three, Headcase Barbers, Pooch Dog Spa and Arapina Wholefood Cafes, provide services that cannot be replicated online. My task was to shine a spotlight on the advantages that buying a franchise offers and why barbering, for example, is a great choice – a service that can't be disrupted by artificial intelligence or the internet. Investing in a successful franchise provides entrepreneurs with a proven model and unrivalled support.
Time to pivot?
Another client, Simon Warman-Freed, has a long track record in marketing and last year started a business under his own personal brand, SWF. Initially planned as a consultancy to help businesses grow, Simon repurposed as Covid made it clear that survival rather than expansion was uppermost in the minds of many of his clients.
The key messaging therefore pivoted from "grow your business" to "save your business." I provided copy across marketing platforms including his website, brochure, emails and LinkedIn. You can read about it here. An inspiring project to work on!
Time to share expertise?
I have also enjoyed collaborating with a dotcom multi-millionaire who now dedicates his time to pro-bono mentoring. He had launched a stellar tech-based travel business employing more than 5,000 people in very challenging circumstances, before using his expertise to help others by working in the charity world for 15 years and donating more than £3 million to good causes.
As an acclaimed mentor and speaker on entrepreneurship, he has given keynote lectures at some of the world's leading business schools and guided young entrepreneurs to rapid growth. His input has been to infuse them with a high-growth mindset, be fearless and bold, think big and base their business on technology.
Time to outsource?
Another recent project was to write website copy for TR Telemarketing. This highlighted the value that businesses trying to pivot their offer or seek new clients in the post-Covid economy can reap by appointing a lead-generation specialist to take a weight off their shoulders.
The content below around sales appointment making is typical of the approach we took to state the need and show the advantages of outsourcing such work.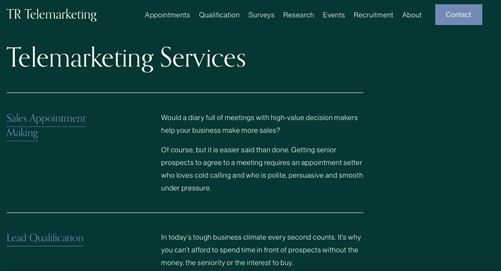 It's a topic I covered in one of my recent blogs – recognising the need to bring in outside help so you can focus on business development and looking after your staff and customers.
If I can help with any of your copywriting needs to get your business back on track, or off the ground, please get in touch.