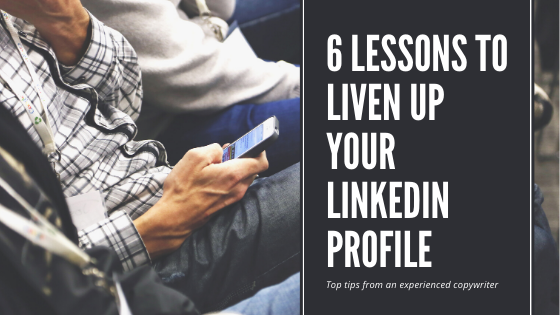 LinkedIn remains one of the best ways to promote your personal brand, whether you are representing your own business, a corporate or charity, or job seeking.  (HubSpot found that LinkedIn is 277% more effective at generating leads than Facebook and Twitter).
Just as you consider your clothes and appearance when you meet people, it's important to review your LinkedIn profile regularly to keep it relevant and fresh.
Here are 6 ways to liven up your LinkedIn profile for the new decade.
1.     Headshot photo
Research by LinkedIn shows that having a picture makes your profile 14 times more likely to be viewed by others. Top tips for your headshot – make it professional looking, wear what you'd wear to work, smile, use good lighting and a plain background. Make sure you are still recognisable – not a shot from 20 years ago.
2.     Background photo
Upload your own background image behind your headshot. Choose an image that inspires you or reflects what you do. LinkedIn advises you use an image with a resolution of 1400 x 425.
3.     Claim your personal URL
When you sign up to LinkedIn you are provided a public URL.  You can customise this when you edit your profile to include your own name.
4.     Headline
Make your headline more than just a job title. Use the headline to tell people who you are, what you do or what kind of client or job you are seeking. With a limit of 120 characters you need to use this marketing space as effectively as possible. Strategic keywords will help your headline appear in more LinkedIn searches.
(Caution – When you add a new job to your work experience there is a checked box that automatically changes your headline to this new job title. Be sure to uncheck it so your headline is not erased).
5.     About (previously the Summary)
Turn your About section into your story – people are only able to see the first few sentences when they come to your page before they need to hit "show more," so those sentences must pull the reader in and grab their attention.
This warrants a whole blog in its own right (funnily enough I've written a copywriter's guide to an engaging LinkedIn Summary here).  Top tips to follow include:
Write in the first person.
Target your reader by thinking about this section as if you were having a conversation with a colleague, a recruiter or a prospective client.
Include a call to action or conclusion. A quote or testimonial from a client, colleague or boss (depending on whether you are seeking leads or a new job) can provide a strong finish.
Liven up your profile by adding documents, photos, videos and presentations into the media section at the bottom.
Get it checked. Poor grammar, typos and misspellings undermine your case. Get someone to look it over and give feedback before you post online.
6.     Add new sections to your profile
You can add sections for posts, volunteering, languages, honours and awards, patents, causes you care about and many more to give your profile more visual appeal and depth and open you up to more opportunities to make new connections.
If you need help in creating a standout LinkedIn profile, get in touch with Editing Edge Copywriting.  We've had plenty of experience creating LinkedIn profiles for our clients – see some examples here.