Review Salon Petersfield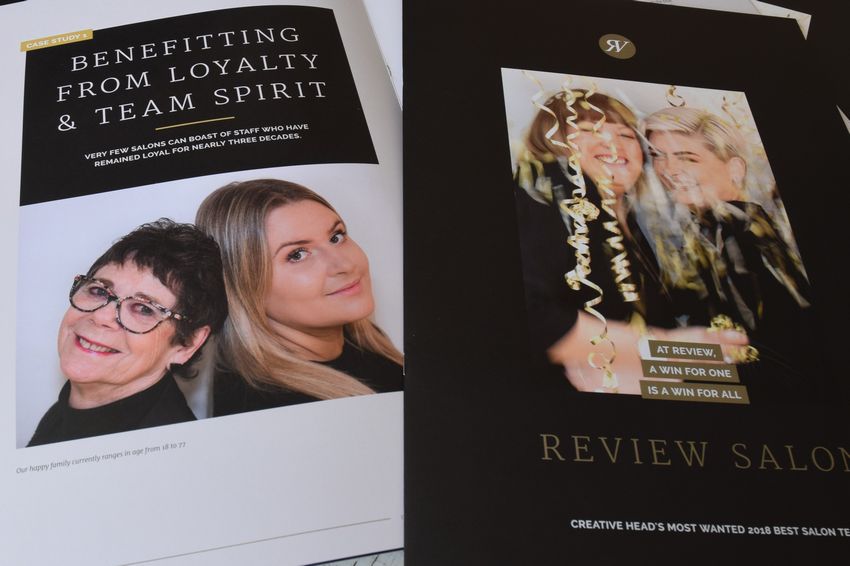 Graphic design by Cris Black – Leaping Cow
Review Salon is an innovative hair salon based in Petersfield.  Their hairdressing has featured in many magazines in the UK and internationally. In 2018 they celebrated 30 years in business and to coincide with this they entered two high-profile awards: Creative Head magazine's Most Wanted Awards for Best Salon Team and the British Hairdressing Business Awards for Salon Team of the Year.
The Problem
Creative Head's Most Wanted Awards celebrate the people who do and achieve remarkable things in British and Irish hairdressing.  The competition uncovers creative talent and business courage the length and breadth of the country.
The British Hairdressing Business awards promote professionalism, innovation and excellence, recognising those individuals and teams who work tirelessly to raise the profile and professionalism of the industry. 
Review needed to submit an outstanding entry for both awards that included a printed portfolio with a team summary and case studies.  With limited words to tell the judges about themselves, each entry had to be honed to perfection to convey a winning story.
The Answer
In the 30 years Review have been in business they have achieved a very low turnover of staff.  When we spoke to the team it became apparent that they treated each other like an extended family, sharing their successes and celebrations.
We wanted to elaborate on the concept of celebration, as part of their 30th anniversary, so asked them to share their amazing stories.
"We're mad about celebrating each other's successes. It binds us together a team and makes us stronger together than we are apart."
Our copy was fine-tuned and together with some stunning photography from Jackie King, handed over to talented graphic designer Cris Black of Leaping Cow to produce the award entries in A3 booklet form.
We repurposed the core copy for each award submission to ensure it met the entry criteria, giving Review value for money in terms of their spend on copywriting.
The Result
The two award entries were a great success, with Review reaching the glitzy London finals for both the Creative Head and British Hairdressing Business Awards.
Using a copywriter can be more cost effective than you think.  Get the most out of your copywriting spend by repurposing your content.
Contact Lesley at Editing Edge to find out more.
Portfolio themes: Award submission, copywriting Petersfield