Pan's Lodge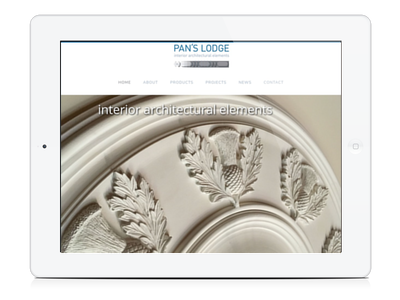 Pan's Lodge are creators of inspired architectural elements for fine homes and interiors.  They specialise in panelled rooms, plaster mouldings and window hardware.
The Problem
Pan's Lodge had two websites representing different aspects of their business.  The websites needed a complete upgrade into one new website with a total overhaul of the copy to bring out their creative and professional skills and to showcase their stunning products better for the fine home and interiors market.  We carried out the website update in collaboration with Internet Marketing Naturally.
The Answer
We spent time with the business owner, drilling down to understand their products, clients and market.  We started from scratch with their website copy to really bring their business and products to life.
The Result
The words on the new website read in harmony with the sleek but stunning design,  illustrating the design expertise and professionalism of Pan's Lodge.  And most importantly the wording appeals to high end architects, designers, home owners and project managers.
Need an overhaul of your website copy that really appeals to your target market?
Contact the team at Editing Edge now.
Portfolio themes: website copy, website copywriter, copywriting Petersfield