Leadstream Website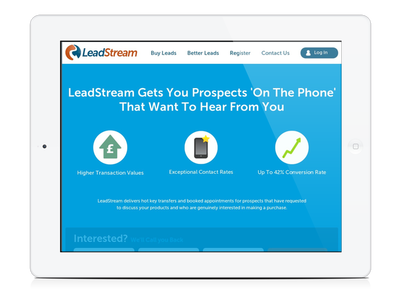 Leadstream website
Leadstream are a smart lead-generation service who deliver hot-key transfers and booked appointments to their financial service clients.  They approached us to provide copy for their new website – and they are now number 3 on Google for "life insurance leads".
The Problem
Insurance and financial service sites aren't always known for their engaging, vibrant copy and we needed to ensure this client didn't fall into a similar trap of dull text populated with empty sales promises.  Leadstream pride themselves on being different.  They have moved on from the old way of passing across unreliable telephone leads so their website and copy needed to reflect this.
The Answer
We were given some basic notes from the client to start.  We augmented this with a 30-minute conversation with Leadstream to draw out their key messages, best selling points and what they do better than competitors.
We used that fact-finding conversation to gather real-world examples and colourful anecdotes.
The Result
The new web content breaks the mould by shunning dull legalese in favour of copy that speaks directly to its audience of insurance brokers in a human way.
We employed short bursts of copy, with language that is honest, practical and engaging.  That was combined with funky graphic design from the company's design studio to make an appealing overall package.
Get rid of the legalese and talk in a human way
Just because you are dealing with a traditionally dry subject or audience, they won't appreciate dull, heavy text any more than you do. Get an expert copywriter to take a fresh look and inject some life into it.  You'll be amazed with the results.
Need a copywriter to shake your website up and get you to the top of Google, contact Editing Edge now.
Portfolio themes: website copywriting, optimised content